Wave – boundary interactions
---
Wave Reflection, Transmittance and Absorption
When a wave arrives at a boundary three thing can happen:
Absorption – the wave is absorbed at the Boundary.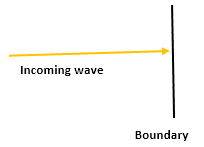 Reflectance – the wave is reflected by the angle of incidence.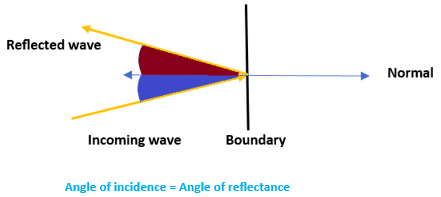 Transmittance – when a wave is transmitted it passes through unchanged but sometimes waves get diffracted at a boundary.
Ray Diagrams – Terminology
Incident ray – light / incoming ray that interacts with the boundary.
Angle of incidence – Angle between incident, 𝜽𝒊 , ray and normal to the surface of the interacting boundary. The normal is 90˚ to the surface.
Reflected Ray – reflected rays have the same angle of reflection
as the angle of incidence.
Diffracted rays – these rays are diffracted at the boundaries between mediums. This happens due to their different properties. Rays will bend towards the normal in denser mediums and away in less dense.
Types of Reflection
There are two types of reflection:
Diffuse:
Diffuse reflection is the term used to describe light when it is reflected from a rough surface. As a result, the rays are randomly deflected, and an unclear image may appear or none.
Specular:
Specular reflection provides us with a clear image. This happens as the reflective surface is flat and smooth. Due to the surface light is orderly reflected providing us with virtual images.