At 8 o'clock, on Monday, in April
---
When talking about time we use at
Examples:
At 8 o'clock…
At half past 3…
At 7:30…
At noon…
At midnight…
At night…
At Christmas…
At Easter…
At the end of…
At the moment…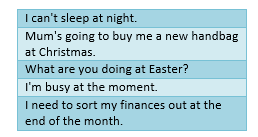 When talking about the day/date we use on
Example:
On Monday…
On Wednesdays…
On Christmas…
On Easter…
On the weekend…
On New Year's Day…
On Boxing day…
On 26th April…
On 30th December…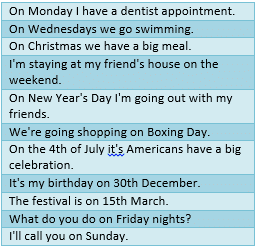 When talking about months, years, seasons, time of day we use in
Example:
In April…
In October…
In June…
In 1996…
In 2003…
In Spring…
In summer…
In Autumn…
In Winter…
In the morning…
In the afternoon…
In the evening…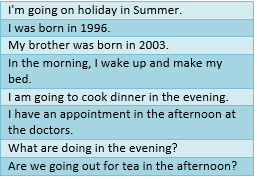 We do not use at/on/in before…

Are you going on holiday this weekend? (not …at/on/in this weekend)
What did you do last night? (not… at/on/in last night)
What are you doing next weekend? (not… at/on/in next weekend)
I have to go to the dentist every month. (not… at/on/in every month)
We use in for the future…

The train leaves in five minutes.
I have an appointment in a few days.
She has to go back to the hospital in a few months.
At 8 o' clock, on Monday, in April Exercises
---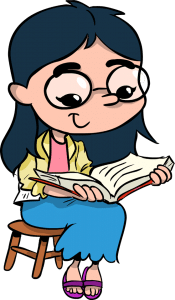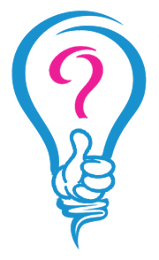 Complete these sentences with this/ these/ that/ those
Sundays
at 6pm
in the evening
on the weekend
Friday
every morning
Saturdays
at 7 o'clock
Monday
, from to I wake up . I have to wake up early because I work. I finish work .
, I cook dinner for my family.
I don't work so I get to relax.
On I go to my mum's house.
I don't like because I know I have work the next morning.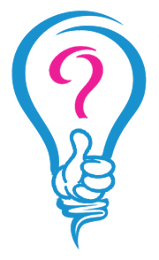 Complete the following sentences

• I wake up at

• I am going to sleep at

• I have a dentist appointment at

• What are you doing at

• I cannot answer his call at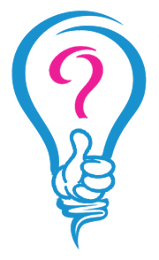 Complete the following sentences

• What are you doing on

• I'm busy on

• My birthday is on

• I'll see you on

• I have a doctor's appointment on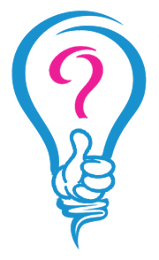 Complete the following sentences

• I'm going on holiday in

• I was born in

• My dad was born in

• We're going out for dinner in

• It's very cold in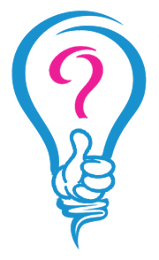 Challenge: Write down 3 sentences using in for the future.
Example: The train leaves in five minutes