How to look modest and beautiful

as a Muslim Woman?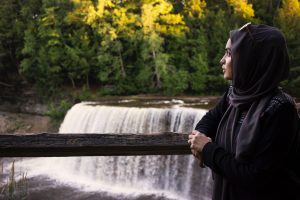 Islam is a religion that preaches modesty for women. Many Muslim women wear hijabs and abayas to dress in a traditional and modest manner. They remain in a dilemma whether they should adopt a western style of clothing or not. However, it is possible to maintain your modesty by adopting western fashion. No matter whether you wear a hijab or not, Muslim mum fashion is possible if you know how to style your dresses.
Modest dresses to look and feel fashionable
If you are wondering how to look chic and still be dressed modestly, there are many designers who have created dresses, especially for Muslim ladies. Modest fashion is finally gaining popularity. Even though it has taken a long time for western designers to recognize the need for modesty among Muslim women, they have finally come up with dresses with the help of certain tweaks and accessories.
As a Muslim girl, you must have felt disappointment until now whenever you tried to find items of clothing that were fashionable. If you chose the latest fashionable dresses, you found them to be too skimpy or tight to make you look vulgar and cheap.  You couldn't wear backless dresses and you couldn't buy beautiful dresses because of their plunging necklines. On the other hand, if you picked up long and loose dresses, you felt drab and like an old mum even if you were able to cover your modesty.
Items of clothing that respect the sensibilities of Muslim women
But now, there is a whole range of fashionable items of clothing to take care of the requirements of Muslim mum fashion. Now, Muslim women can observe modesty and still look and feel fashionable. It is a fact that Muslim women like to dress modestly but they also have a deep desire to look fashionable. There is practically no restriction on the use of modern fashion accessories like jewellery, sunglasses, shoes, and handbags. Muslim mothers can now make use of stylish scarves, stoles and stylish full-sleeved dresses to look beautiful and fashionable like their non-Muslim counterparts.
Modern, stylish and fashionable dresses for Muslim ladies are now available in stores and online shops. These dresses have been created keeping in mind the sensibilities and the need for modesty as practised by Muslim ladies around the world. You need not feel stifled by the compulsion to wear drab items of clothing. Muslim mum fashion is now a full-blown reality even though it took a long time coming.