ENGLISH – WRITING A REVIEW – GCSE
---
Learning Objective: To understand what a review is, what they are used for and how to create a successful one.
What is a Review? What are they used for? 
A review is a written assessment of something, someone or an experience. It is there to inform people, to advise them, to analyse something or describe it.
They can be written with a positive view in order to give praise, with a negative perspective to criticise, or simply just offer an opinion and balanced view of something for others to read.
A review should always give your opinion but also be as accurate as possible. The purpose of a review is often to help other people so giving accurate information is useful. For example if you are reviewing a product such as a mobile phone accurate details allow other people who read your review to understand it.
Here are some examples of things that typically get reviewed:

A book
A film
A CD
A holiday
A place you visited – museum, theme park
An experience – paintballing, swimming, flying, massage
A product you have bought/used – mobile phone, clothes, shoes, toys, crafts,
recipe book
A play
A sporting event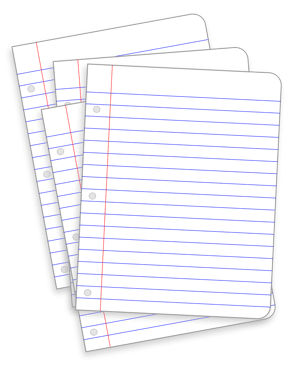 What does a Review look like?
Reviews are simple to present. They consist of a title and author name followed by several paragraphs that make up the review.
For some reviews you may wish to include a rating system e.g star ratings
Some reviews you may also wish to include a picture to illustrate what you are reviewing.
Take a look at this example then read the table on the next page which breaks it down into its components and explains them.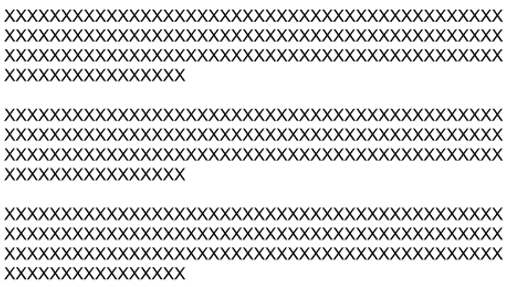 Activity 1
---
Have a think about what you could write a review about. Then think about the different ways you could present the review e.g positive, negative.
Topic
Angle
A New Book/Film
●       It is a triumph, a wonderful thing, everybody loves it!

●       It hasn't been as successful as hoped, the story is lacking.

●       You can't decide if it is good or bad it's too early to tell. Maybe the sequel will be better.

Your Favourite Book/Film
●       What a good story it is, how interesting the plot is and its creative characters

●       How the book would make a good movie and the movie a good book.

●       Looking forward to the rest of the series.

●       Persuading other people to read/watch it.

Recent Holiday
●       It was amazing, lovely weather, nice views, good hotel, beautiful place, inexpensive – you would return.

●       It was horrible, delayed flights, hotel wasn't a good standard, terrible weather – you would never go again.

●       Explore both positive and negative aspects – overall a satisfactory holiday.

Sporting Event
●       Review the performance of the players/an individual player in particular

●       How they played really well, secured a place in the final etc.

●       How badly they played together, didn't work as a team the effect this has for other games.

Theme Park
●       Lovely day out, lots of choice, queues were short, reasonably priced, nice food, good family trip.

●       Bad weather, rides out of order, couldn't get a refund, people were ill, long queues in the rain.

Museum/Historical Place
●       Interesting and informative, learnt lots, good price, educational

●       Boring, not very interactive

Mobile Phone
     ●    Top of the range, good contract deal, can do everything, lightweight,     smart, compact
● Expensive, not as good as thought it would be,

easily damaged

Hair products
● Work very well, live up to their description e.g sensitive, gives volume, firm styling.

● Don't perform well e.g no volume, gel doesn't hold hair in place, disappointing and expensive.

Recipe
● Works well, easy to follow, cheap to make and tastes good – family enjoy it

● Expensive, hard to follow, tastes strange
Activity 2
---
Below are some examples of reviews taken from the internet. Read each one and identify the title, the author, and what the review is reviewing and the perspective taken on it.
1. Taken from http://www.tripadvisor.co.uk/Hotel_Review-g186338-d193046-Reviews-Le_Meridie n_Piccadilly-London_England.html.
Title
Good location, old hotel
Author
Ibizarre
What is being reviewed?
Hotel in Central London: Le Meridien
What is the opinion?
Good connections nearby busy places and transport centre. A nice place with good staff and service but not as good as it described itself to be. It's old and patchworked together, wastes heating.
Extra Details?
He gave it 4/5 overall (green circles)

5/5 for location

5/5 for service

4/5 cleanliness
Taken from https://ccbc.education.wisc.edu/books/hpreviews.asp.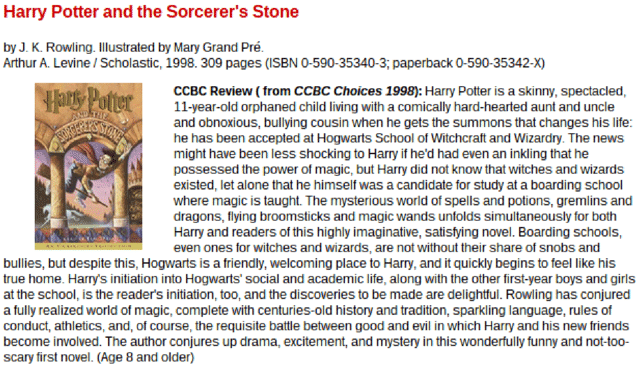 | | |
| --- | --- |
| Title | Harry Potter and the Sorcerer's Stone |
| Author | CCBC Review |
| What is being reviewed? | Harry Potter and the Sorcerer's Stone |
| What is the opinion? | Gives a brief positive summary of the plot of the story. Praises JK Rowling for creating an imaginative wizarding world that is exciting and engaging. |
| Extra Details? | Age guidance is given (Age 8 and older) |
Taken from http://www.mumsnet.com/reviews/family-days-out/theme-parks-uk/13397-flamingo -land.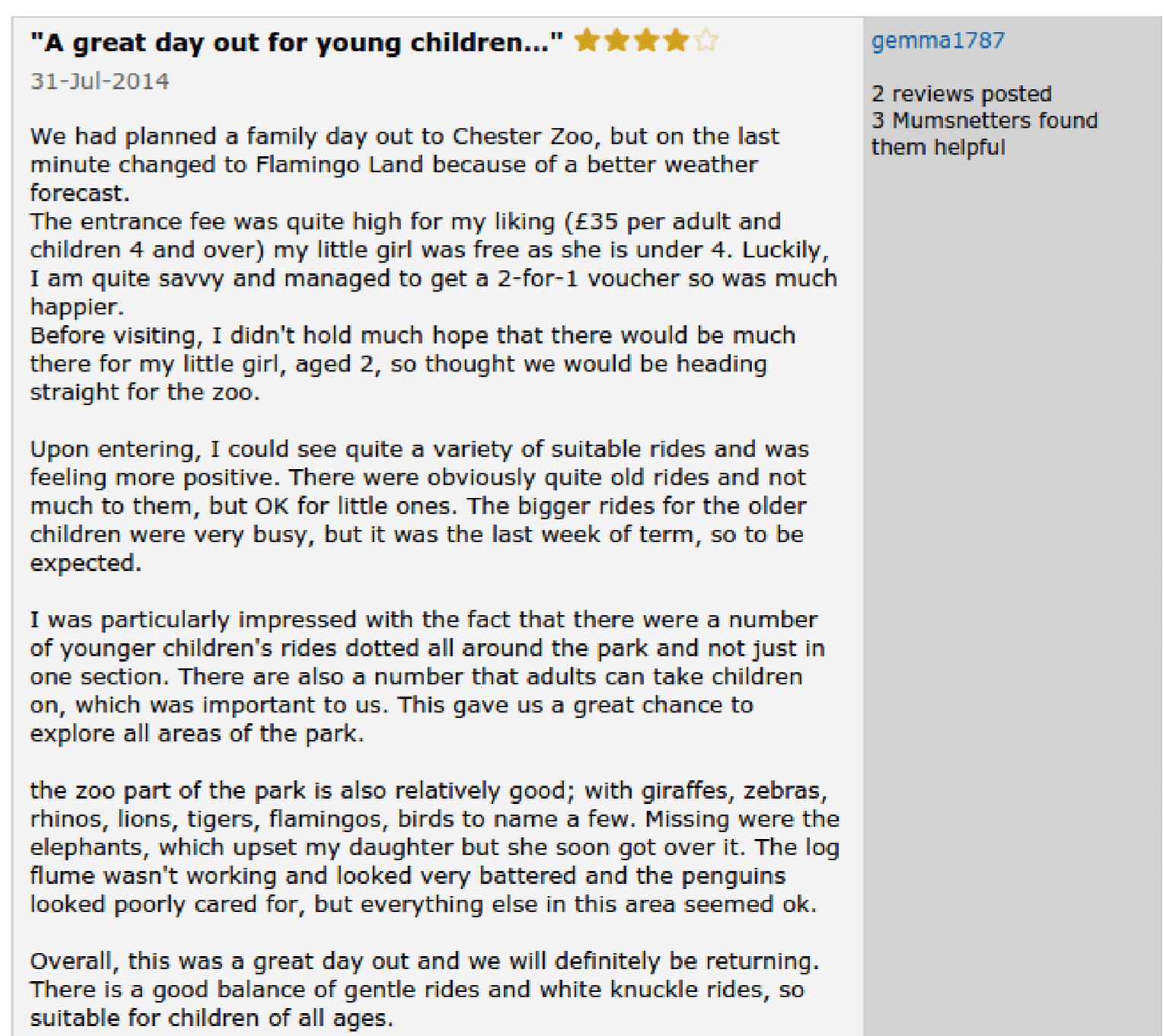 | | |
| --- | --- |
| Title | A great day out for young children |
| Author | gemma1787 |
| What is being reviewed? | Flamingo Land Theme Park |
| What is the opinion? | Thinks the price is expensive, they have a good variety of rides for all aged children, lots of areas of the park to visit, some rides out of order, zoo was interesting. They would go back. |
| Extra Details? | It tells you how many people thought this review was helpful – 3. |
Activity 3
---
Now you have filled a table full of ideas choose one and use it to construct your own review. Use the above information to help you with your layout. For the main body of the review construct it as you would any written text. Plan using GMAPS and Caterpillar/Spider plan to help you.
Remember to include:
Title
Author
Paragraphed points
    OPTIONAL: